Building a nonprofit website is a very exciting thing to do. It can only seem overwhelming if you don't have the proper planning (think about the 7Ps). There are many different reasons and many different features that you can include in a nonprofit website. In this article, I will cover six crucial elements that a Nonprofit website needs and how they will benefit you in the long run.
Donor Management System
At the core of a nonprofit, and what keeps the lights on, are donations. If you are running a nonprofit, I do not have to express how important it is to keep track of where each donation is coming from, who they are coming from and how often they are coming. More importantly, you must keep track and also keep informed of your donors. They make the lifeblood of your nonprofit run. To make sure you are staying on task and in order, you need a donor management system.
A donor management system is a flexible fundraising platform designed to help you increase your online donations, manage donors, and gain insight into your effort. You can do all of this directly on your website. There are many tools out there that can help you with this. Your donor management system features can include customizable forms, built-in & scheduled reporting, PDF receipts, recurring donations, and a whole lot more. Also, your donation system should be easy to integrate with third-party systems.
CRM Integration
If you have tried to send out regular emails to your donors and community through Gmail or Outlook, you already know how much of a pain-in-the-you-know-what it can be. A CRM is one of the best inventions for marketing. It goes by many names – Customer Relationship Manager, Constituent Relationship Manager, Client Relationship Manager – no matter the name, it does one thing well: it helps you contact those who matter the most. Using a CRM will save you countless hours of drafting, sending, and following up via email. One of my favorite features is automation. I LOVE automation. Being able to set something up and allowing it to do the work without my involvement is excellent. For example, imagine creating a case study to help you generate awareness of a service or program you offer. You can then publish it to your website, create a landing page, have them sign up to download it, and allow the CRM to do all of the automated follow-ups without you doing anything else. Do you know how great that sounds?
Using a CRM will help keep your audience engaged with what you are regularly doing as a nonprofit. There are plenty of options out there. Make sure whatever one you choose satisfies your needs. 
Calendar
You have tons of events. You also have a vast CRM of contacts. While you could use your CRM to consistently remind your audience of events going on (which you should), do not negate the power of having a calendar. Using a calendar will help you accomplish at least one thing: keeping your event schedule organized. Using an event management calendar will help you build community and civic engagement by making all your events easy to browse, sort, and register for. You will even help your site visitors find events that best match their interests. Here is a screenshot of a popular event calendar in WordPress: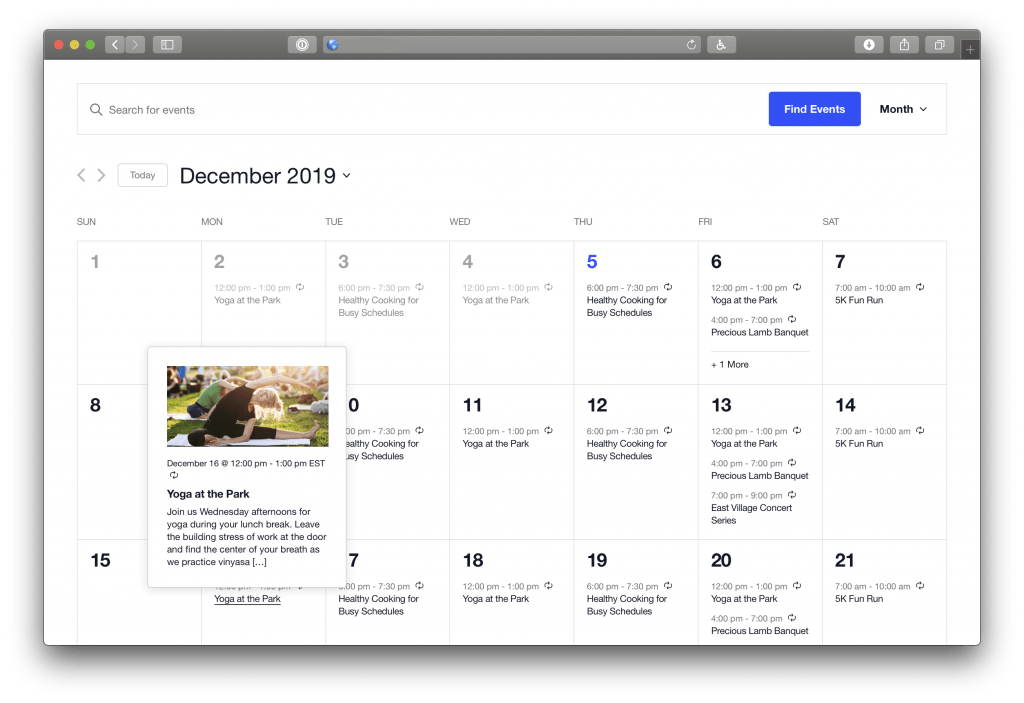 Credit: WordPress.org
Quality Hosting
I will preach this point until the end of time. What applies here is the saying, 'you get what you pay for'. Paying for quality hosting will make or break your sanity. Having your website hosted on a quality platform will take one less burden off your plate. Especially if you are not that technical, having a hosting partner that you don't have to worry about keeping your website live is heavenly. 
I know nonprofit agencies are very budget-conscious, so spending the extra cash on hosting is not feasible. In that case, I suggest you look up quality cheap hosting. If you can afford to, pay the extra money and go for a higher quality host or hosting plan. It doesn't necessarily mean you have to fork over $100+ per month. A good quality hosting plan should be in the ballpark of $15-$25 per month, depending on the offered features. Some of the features you should look for are:
Live support (preferably 24/7)

Automated Backups

99.99% Uptime (sometimes called SLA)

Staging

Malware protection or a firewall
Each of these are features will make your life SO much more manageable. Especially the support. When you don't have someone internally to lean on, a quality support team will save you by leaps and bounds. 
Accessibility
If you don't know, having an accessible website is both a necessity and a requirement. It's necessary to have so users with disabilities can browser your website easily. It's required to avoid any litigation, primarily if you work closely with the government. You must make sure your site meets strict government regulations for accessibility. Being covered for Section 508 as well as WCAG 2.1 Level A and AA is a great start. One primary task of this is to monitor content and changes on your site regularly. Things can quickly get behind if you are not careful. That's why it pays to have a quality support team working with you. This moves us to our last point.
Support Team
You need a team. Humans are not meant to make it through life alone. The most successful people know this. Anyone that has accomplished great things has never done it alone. They always have a team next to them in some capacity. The same goes for getting support for your website. Your staff may have some expertise in websites, but someone with years of experience will take the weight off your shoulders. A support team that is there every step of the way will make sure you are informed of what is going on and make certain things are done the right way. Name one service or product you know that doesn't have some support when you need it? Unless, of course, you tried calling your cell phone provider and being on hold for six centuries, but that's another story. 
In closing, doing a nonprofit design and development project is very fun. There are many moving parts to make sure your site is successful after it has gone live. Remember those 7Ps from earlier? The same thing applies here.
What are your thoughts? Drop me a line, and let's discuss some other features that you think should be included.
All the best!